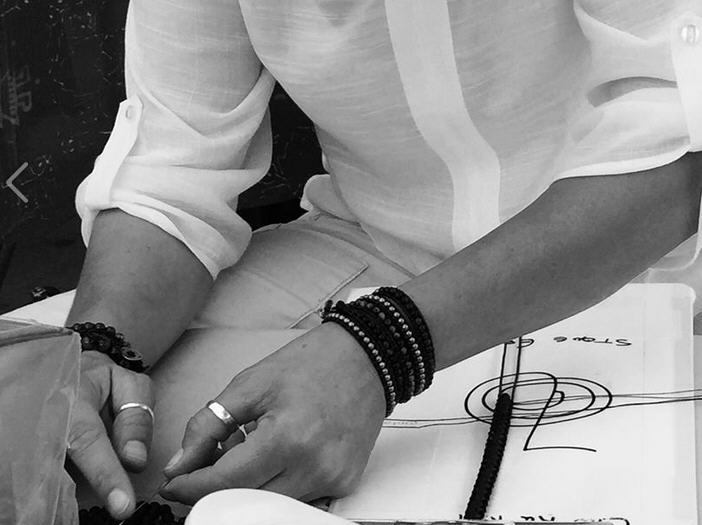 Stone Era prides itself on the quality of our materials and artisanship.
With the correct care, our jewelry will provide you years of wear.
Here are few things to help you with the care of your item.
 When cleaning your bracelet, use a soft cotton cloth.  At most, use a damp cloth.  Neither stone nor metals should be scrubbed with cleaning material.
2.  Put your bracelet on last, after cosmetics, perfume, some substances can be corrosive.
3.  We recommend you don't wear your jewelry while bathing, swimming or taking part in sporting activities.
 4.  When you are not wearing your bracelet you can store it in the pouch provided with your purchase away from sunlight and heat.
  Stone Era est fier de la qualité de nos matériaux et de notre travail.
Avec les bons soins, nos bijoux dureront des années. Voici quelques conseils pour vous aider à prendre soin de votre article.
Lors du nettoyage de votre bracelet, utilisez un chiffon en coton doux. Au maximum, utilisez un chiffon humide. Ni la pierre ni les métaux ne doivent être frottés avec un produit de nettoyage.
 Mettez votre bracelet en dernier, après les cosmétiques, le parfum, certaines substances peuvent être corrosives.
 Nous vous recommandons de ne pas porter vos bijoux lorsque vous vous baignez, nagez ou participez à des activités sportives.
 Lorsque vous ne portez pas votre bracelet, vous pouvez le ranger dans la pochette fournie avec votre achat à l'abri du soleil et de la chaleur.